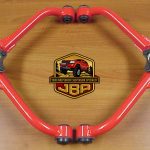 "Stop wasting money on factory
A-arms for your Liberty."
"JBA Upper Control arms will give you a life time of durability."
Get the ORIGINAL after market upper control arms
JBA A arms!
Dear Friend,
If you'd like replaceable ball joints, grease able ball joints, heavy duty construction and welded by certified welders, then this might be the most important web page you'll ever read.
Here's why:
At JBA we make the original after market upper control arms (UCA) or A-arms for the Jeep Liberty (KJ), we designed them better than Chrysler.

Now, I know you're probably skeptical. That's normal and healthy. Let me give you three good reasons we can back up what we claim:
Three Reasons To Believe What I Say
Reason one: Al Handy designed and built the first set of upper control arms (UCA) or a-arms in 2003! JBA first generation a-arms were born, we are now making the gen 4.5 our best design to date. There are hundreds of Jeepin by Al's a-arms in service all over the word.
Reason two: I have been designing and fabricating custom product for over 20 years.
Reason three: JBA a-arms are approved by All J Products, Rocklizards Fabrication and Jeff Daniels Jeep Customizing.
Here is a summary of the benefits you receive with Al's upper control arms!
3/8 inch more strut clearance than the factory a-arms

Ball joints are mounted on an angle to line up with steering knuckle

Replaceable ball joints

You can replace the ball joint for under $35.00 per control arm

Our A-arms work with all lift kits on the market today

Three styles of control arms size fits all!

Factory front end alignment

Red powder coat finish

Heavy duty tubing

CNC manufactured parts

Manufactured in USA
Now, you're probably wondering how and why we can do all those things.
Let me explain.
The JBA Upper A-Arms were designed for your lifted Liberty and will directly replace your stock (UCA) upper control a-arms. The original equipment a-arm hits the spring, which causes premature ball joint failure on Liberty's with a lift kit. The JBA  A-Arms are compatible with all the lift kits on the market today! These A-Arms were designed to fit on 2002 through 2007 Jeep Liberty's. (Now 07 KA & 08 KK) Made of heavy duty tubing, red powder coat finish, with Spicer HD replaceable ball joints and factory rubber bushings. The A arms are assembled and ready to bolt onto your Liberty. Sold as a set, 1 left & 1 right upper control arm (UCA).
Don't take my word for it. Listen to what our customers say.
Testimonial: Hello JBA I just wanted to take a moment to thank you for outstanding product and service. I have had the opportunity to deal with your competition prior to buying my JBA uca's. With those arms installed, my camber was at +1.6 degrees. This was after 3 trips to 2 alignment shops. After many emails because the owner obviously has no voice they finally took them back. Also they informed me that the problem was my installation or setup. Not possible that the arms could be messed up. The installation of your competitions arms it took some persuading to get them to go in. Also when installed they squeaked like crazy! When I installed my JBA's they went in like they were made to fit and one trip to the alignment shop is all it took for a perfect alignment. I have always been one to root for the underdog but, sometimes there is a reason why they are the underdog. Thanks again Brian Short STUMP JUMPER
Testimonial: Thank you Marlin, Just a note to let you know that I have had the a arms and 3.5 " lift kit on for about a week now, and think that they are great. The jeep rides great and looks really good. I am very glad that I went with your a arms. Plus the service was outstanding! Ordered on a Fri and received on Mon. To any one who reads this, if you have a Jeep Liberty and want to lift it make sure u use Als A Arms. __________Rick_Mundell_____OCT 2009________________________
Testimonial: JBA, Just wanted to let you guys know I received the KJ upper control arms and put them on today. The arms installed fairly easy as I was expecting it to be an all day project. All contact I previously experienced with the ball joint/strut is gone now. Your Gen 4.5 arms have solved the problem I have lived with for a long time. I installed the lift shortly after buying my KJ new back in 02. The noise from the contact issue was very noticeable from the beginning. After having that issue I was concerned about even buying any other aftermarket products for the Jeep, including yours. Problem was once the lift and tires were on the vehicle there was no way I would be removing them, it just looked way too nice. Besides I have yet to see any other lifted Liberty's where I live. Your arms have taken away the concern I have had about imminent ball joint failure from being a reality. I just wanted to thank you for a making a great product that worked great for me. James Parker Newark, OH
Testimonial: They've held up great to all the wheeling I've done on them since they were installed at All-Js on May 24 2008. The arms have held up to Hell's Revenge, Fins $ Things, Porcupine Rim, Lockhart Basin/Hurrah Pass, Long Canyon Road and the White Rim Trail in Canyonlands National Park. Not to mention Big Eye Mine Road, a local trail here in Yuma, AZ. I think they've had nearly the same off-road miles as on-road miles since being installed. With these arms matched up with the Frankenlift Premium II kit, it makes a KJ feel like a street car in ride feel, but WAY more capable off-road. I love it!!! Thanks for a great product!!! Regards,Scott
Testimonial: http://www.myvirtualpaper.com/doc/JP-Freek/JPF-MVP_opt/2008121201/ Pg 41, Adam Rosenfeld
(picture of A-arm and the JBA Adjust-A-Strut Coilover system for the Jeep Liberty)
Warning: Do NOT make a bad investment in cheep imitation, Get the original upper A-arms for 02'-07' lifted Jeep Liberty's (also 08 KK Liberty's)
Own the genuine JBA upper control arms (UCA) for your peace of mind!!
There is a lot of confusion surrounding our field. I want to give you 7 criteria or elements you absolutely, positively must have in any solution you obtain:
1: Gives your struts clearance!
2: Replaceable ball joints!
3: Factory front wheel alignment!
4: Durability for off road use!
5: Bolts in the factory pockets in short order!
6: Factory rubber mounting bushings to isolate road noise! (no squeaking)
You will never need to replace your upper A-arms for the life of your KJ
Chrysler's factory control A-arms vs JBA upper a-arms, 3/8" [9.5mm] More Spring Clearance!
No tire rubbing with JBA Gen 4.5 A-arms!
You get at least 10 times your money's worth!
I have over $10,000.00 of R&D work into the gen 4.5 upper control arms. I spent month testing different ideas. For a fraction of time and cost you can have a set of JBA a-arms that will out last the factory a-arms 5 to 1.
In summary, here's what you are investing in:
Installation instructions, One set of JBA a-arms, 2 Spicer ball joints, 4 mounting bushings, A-arms are full assembled and ready to bolt on your Jeep KJ.
If you respond right away, your investment is only $430.95 $395.95 plus shipping.
Act immediately and receive the following bonus
Since I know it's 100% to your benefit to act right away, I want to sweeten the pot and give you every possible reason to say YES today! If you respond immediately you get report on how to get the most out of your front suspension. Up to 9" of travel!
You can't lose with our 100%, ironclad, money back guarantee
By the way, the bonus is yours to keep even in the unlikely event you decide to take advantage of our ironclad money back guarantee:
Your satisfaction is guaranteed with our 100%, no-questions-asked, iron-clad money-back guarantee. If you aren't absolutely thrilled with our product, just contact us (or send the product back) within 6 months and we'll refund 100% of your purchase price. No questions asked!
Here's how to get involved right now!
To order JBA Upper A-arms for
lifted Jeep Liberty

just click the link below http://jbaoffroad.com/jba-a-arms/jeep-liberty-kj-upper-a-arms.html http://jbaoffroad.com/jba-a-arms/jba-upper-a-arms-for-08-12-lifted-jeep-liberty-s.html

Place order before 2:00 pm ET and your arms will ship the same day!

Shipping world wide w/ UPS & USPS!

Ship next day air for the emergency repair on your daily driver!

keep on Jeepin,

Marlin Gehman

owner

Jeepin By Al LLC.

PS: Make your Jeep Liberty ride like a

Mercedes-Benz

your spouse will

thank you!

We have the best lift kits for the Jeep Liberty,

F

or the owner who wants the very best lift kit for there Jeep Liberty!